Are you looking for something active to do that the whole family can join in with? Something that's affordable and can be enjoyed all year round? Maybe it's time to give family roller skating a go?
Here's our top ten reasons why you should give it a go;
Suitable for the whole family and all ages; that's from toddlers to the more mature. There's no standing on the side lines; it's skates on and let's go.
It's an adaptable physical activity for all abilities
It'll make you smile; you simply can't help smiling or laughing when you're flying, wobbling or gliding
Great cardio exercise; even at moderate speed roller skating provides a fantastic aerobic workout
It'll help improve your balance; which can only be a good thing
Burns calories; the more you skate the more you'll burn
Loads of health benefits; it'll strengthen your heart and improve your fitness endurance
A whole body workout; creating power in your legs, working your core and your arms help maintain your balance
Improves mental health; skating can help improve your mood and well-being
It's a social activity; you'll have fun with your friends or family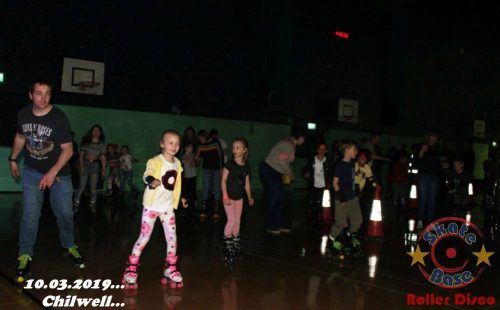 Chilwell Olympia every Sunday from 1.30-3.00pm and Kimberley Leisure Centre on Saturday's from 4.30-6.00pm. They cost just £3.50 a session with skate hire at £1.50.
Sessions are drop in, so just come when you fancy some active fun!
With over 300 pairs of skates to hire (Toddler size 6 to adult size 13!) as well as safety gear available to borrow free of charge. Skate Base really does have everything covered.
Music and sounds
Each session also comes with a live DJ playing all the latest sounds and a few old skool tracks too, with full disco lights for a great atmosphere.
Skate Base Roller Discos are open to everyone, any age, height or ability. A great friendly environment where everyone is welcome!
"My children love coming to Skate Base and will keep coming. I would highly recommend anyone at any age" Dana
For further information you can email Skate Base: contact@skatebase.co.uk or give them a call; 07414 067667
Hope to see you skating soon!