Uk Gyms were allowed to re-open their doors from 25th July 2020; during the covid-19 pandemic. With most holding out a few more weeks; I was excited to hear that LLeisure gyms had reopened on this date.
I personally have no underlying health problems; nor was displaying any symptoms of covid-19 so booked in for 11am on Saturday 25th July.
What I hadn't remembered however is that I'd just spent the best part of 4 months sat around eating chocolate in my pyjamas until 4pm most days; therefore I wouldn't have been at that same level of fitness and strength as I once was. There was a time in early 2020 I had forgotten what DOMS were; come July 27th I was about to remember all too well that feeling of using the stairs; and wishing I had bought a bungalow.
Like I had never been away
When I came to Kimberley Leisure Centre it was strangely familiar. No cobwebs as I was expecting, nor any staff stood outside ready to fumigate me as I entered the building. I came in via the usual entrance following the one-way system and was greeted warmly by Karen. I think she was smiling at me; you can never tell with these new masks! My temperature was taken and I went green, meaning I had to go and face the gym after all.
Following the one-way system up the stairs I went to the gym and was greeted by the gym team, (who again – were more than likely smiling at me!) and jumped onto the treadmill to warm up.
The treadmill looked exactly as I remembered it (the rainbow road of torture) but this time it had a sign on it.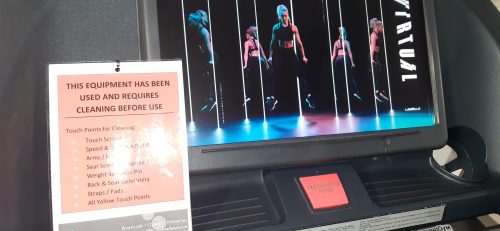 RED: meaning it needed cleaning on one side
GREEN: clean and ready for use.
Once I had finished my warm up I went over to the nearby table laden with Ultra AX cleaner, tissue and hand sanitiser, cleaned all the touch points on my machine and sanitised my hands. Not too bad – and more importantly – I felt safe.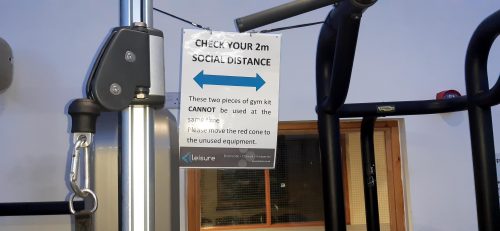 Everyone was kind in the gym, giving one another room to move about freely. I could actively see the cleaners patrolling the gym regularly and turning the signs from red to green having cleaned them for the people who were unable to. The gym staff were still as helpful as ever giving me advice and support (from a distance wearing their mask) during my workout and answering the plethora of questions I had – which we all had!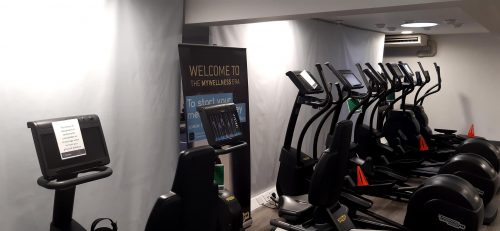 I had booked in for my 90minute session so I knew that if anyone I was in the gym with at that time (even with the meticulous cleaning regime, temperature checking, staff masks and social distancing) my details were on file. Any problems, and I would be contacted in the event of a case of covid-19 within the gym at the time I was training. I couldn't have felt more safe if I tried! It was (and still is) certainly above and beyond what a lot of other industries are doing at the moment.
To exit I walked back along the corridor, along the landing, past the new spinning studio (which gave me a sneak peak of what I was letting myself in for on Sunday), down the back stairs and out of the fire exit to the car.
Aside from the lack of changing facilities and inability to train alongside others it was like I'd never been away! Well that's what my brain thought until Monday morning as I battled my way down the stairs (mostly on my bottom) to sit and complain to my partner about how much I had "missed" the gym…
Yes, I've missed the gym, but it feels great to be back again.
As I said at the beginning, I am a healthy and fit young adult with no symptoms. The procedures and new rules LLeisure have put into place, therefore, are great for me. However, if you are displaying symptoms or consider yourself to be in the high risk category for covid-19; we ask that you do not re-start back with us at this time. If you have a valid membership with LLeisure you can request an extended freeze which they will process for you.
Once you are ready, they will welcome you back with socially distanced open arms!
Stay safe and see you in the gym soon!