Les Mills Virtual classes are here! Virtual workouts combine world-leading fitness programs with pumping sound and motivation from some of the hottest instructors on the planet. It's a truly inspiring experience that will drive amazing results.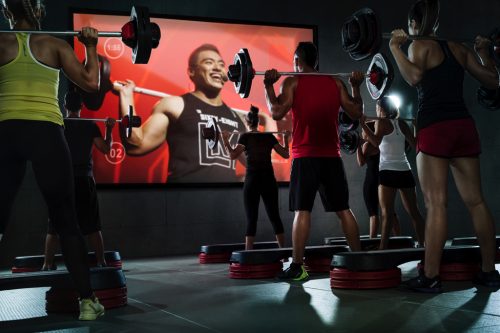 Join us and try the next generation cinematic fitness. With Les Mills Virtual we're giving you more classes and more often.
A bigger programme of fitness classes with flexibility to work out when you want!
Instructors guide you through the moves as if it were a live class with coaching and motivational tips.
With new class releases every three months, fresh choreography and music will keep you engaged and motivated.
Virtual v real classes
Virtual classes will be programmed as a complement to our instructor-led classes, not a replacement. To get the best results mix and match live and virtual so you get the classes and results you want.
Virtual at our centres
BODYPUMP™, BODYCOMBAT™, CXWORX™, SH'BAM™, BODYBALANCE™ BARRE™ and GRIT™CARDIO will be running across our three centres.  Timetables will be released shortly, so you can start planning your virtual journey with us!
Class descriptions
BODYPUMP™ is a barbell workout for anyone looking to get lean, toned and fit fast. Using light to moderate weights with lots of repetition BodyPump is a total body workout that burns up to 540 calories. With scientifically proven moves and great, pumping music
BODYCOMBAT™ is a high energy martial arts-inspired, whole body workout that builds superior fitness and core strength. Totally non-contact and with no complex moves to master. BODYCOMBAT motivates  to punch and kick their way to fitness, burning up to 740 calories* along the way
Exercising muscles around the core, CXWORX™ provides the vital ingredient for a stronger body. A 30 minute workout that will strengthen and tone your abs, glutes, back and obliques for a stronger core. You'll work with resistance tubes and weight plates, as well as body weight exercises like crunches, and hovers.
A fun-loving, insanely addictive dance workout. SH'BAM™ is an ego-free zone – no dance experience required. All you need is a playful attitude and a cheeky smile so forget being a wallflower – even if you walk in thinking you can't, you'll walk out knowing you can!
BODYBALANCE™ is the yoga-based class that will improve your mind, your body and your life. The class is a Yoga, Tai chi, Pilates workout that builds flexibility and strength.  It will leave you feeling centred and calm.
BARRE™ is a modern version of classic balletic training; a 30-minute workout designed to shape and tone postural muscles, build core strength, and allow you to escape the everyday.
GRIT™ Cardio a 30-minute high-intensity interval training (HIIT) workout that improves cardiovascular fitness, increases speed and maximizes calorie burn. This workout uses a variety of body weight exercises and provides the challenge and intensity you need to get results fast.
New to group fitness?
LES MILLS Virtual is a great place to begin. Virtual enables you get up close and personal following the instructor on the big screen.  All your fears and worries will soon disappear as you're immersed in the moves and the music of Les Mills.
Why Les Mills?
Les Mills Virtual classes are developed by some of the worlds' best fitness professionals. All the classes have been subjected to a thorough testing process. This ensures you get the results you want!  So what are you waiting for?
When can I go to a class?
Check our timetables so you can start planning your weekly sessions. You can attend a class on your own, or maybe grab a friend to workout together. Please ensure you book in for a virtual class, just as you would a live class, to ensure the class is running.
Bramcote – Les Mills Virtual Timetable
Chilwell – Les Mills Virtual Timetable 
Kimberley – Les Mills Virtual Timetable
Download our App
Keep up to date with all the news on Les Mills Virtual through our Facebook or download our App for IOS or Google Play for Android for all the latest news.
Want to join us?
Les Mills Virtual is included as part of your gym membership, interested in joining find out more here