The spa is currently closed due to COVID-19
We will review this regularly and update the website once we have everything in place for a safe reopening
Thank you for your patience.
Relax your body and mind with a visit to our new Spa at Bramcote Leisure Centre
The Spa includes; a sauna, steam room, aromatherapy room and spa pool. The refurbished Spa area includes; showers, changing facilities for men and women and a lounge area for you to rest. Our Spa is a place to soothe your aches and pains and to help boost your immune system. It's a space to unwind and induce a state of calm and well-being.
Sauna, Steam and Aromatherapy Room
Saunas use dry heat, with temperatures between 85-100°C
Steam rooms are humid with moist heat, with humidity kept at 100%
Aromatherapy rooms are humid with moist heat and relaxing scents such as Jasmine.
Benefits for the body
Fantastic for relaxing muscles and relieving muscle tension
Particularly beneficial after a workout as they can help relax and loosen muscles to prevent soreness, as well as alleviate deep muscle pain and achy joints
Heat improve blood flow and speeds up circulation throughout all parts of the body to help flush out toxins to cleanse and detoxifying the body to give you a healthy glow.
Benefits for the mind
The high temperatures cause your brain to release feel-good endorphins
The atmosphere provides a place to de-stress, relax and relive pressures from everyday life
Spa Pool
Soothing bubbles in the pool help you relax  mentally and physically
High-pressure hydro massage jets will help soothe and relax your muscles and joints
The temperature in the pool is between 35 – 37 °C and is 0.9m in depth
---
Opening times:
Mixed Sessions
Monday: 8:00am – 9:30pm
Tuesday: 8:00am – 9:30pm
Wednesday: 8:00am – 3:30pm
Thursday: 8:00am – 3:30pm
Friday: 8:00am – 9:30pm
Saturday: 8:30am – 6:00pm
Sunday: 8:30am – 7:00pm
Ladies only: Wednesday 4:00 – 9:30pm
Men only: Thursday 4:00 – 9:30pm
Bank Holidays: 8:30am – 7:00pm
The Spa is included as part of our gym memberships as well as on a pay-as-you-go basis (£12.50 per visit). Please contact  reception if you're interested in taking out a membership.
Please ensure you drink plenty of water during and after exercise before you use the sauna. If you have any medical conditions please consult your doctor first before using any of the Spa facilities.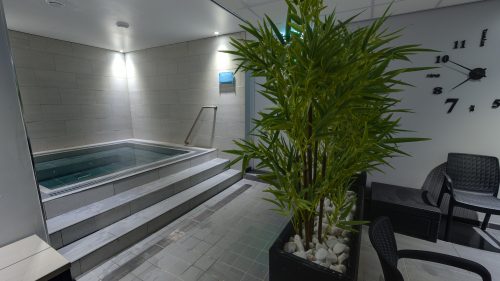 Terms and Conditions
• Please ensure you read and adhere to the Spa user guides.
• Only leisure card holders 16 years old and over can use the Spa.
• All customers must vacate the Spa area for 21:30, the changing rooms
will be available until 22:00 (Monday to Friday). On Saturday customers need to vacate the Spa by 6pm – changing rooms 6:30pm and Sunday 7.00pm and changing rooms 7:30pm
• Swim wear must be worn at all times (excluding cubicle showers).
• For health and safety reasons, dye colorants and razors must not be used.
• If you have any underlying health conditions which you think may be affected by
using this facility, please seek medical advice.
• Any customers found to be misusing the facility, behaving boisterously or demonstrating
inappropriate behaviour will be asked to leave. Management have the right to refuse entry.
• Maximum stay 2 hours