Birthday parties are currently suspended.
We will update this page as soon as they re-start.
Celebrate with a Kimberley Leisure Centre Birthday Party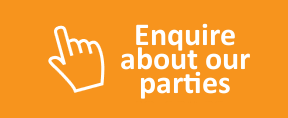 It's our aim to make your special occasion an enjoyable day for you and all your guests. Our children's parties are designed to make the whole occasion as stress free as possible. We take care of everything; from the invitations, activity of your choice and a separate room for 30 minutes to enjoy your party food and cake. We'll even clean up afterwards.
Booking a Birthday Party
To book your Birthday Party at Kimberley just follow these simple steps:
Choose the preferred party below
Decide the date on which you would like your party
Get a rough idea of the amount and age of the children you would like to invite
Contact us to check availability or simply complete our booking form
Our friendly staff will book your party and answer any other questions that you may have
Sit back and relax before the big day
Parties Available at Kimberley Leisure Centre
If you have an idea for a party then let us know and we will do our best to make it happen!
---
Mermaid & Shark Party (6yrs + or previously been on Swimming Lessons Stage 5 or upwards)
Exciting new pool party that introduces the skills of swimming like a mermaid or shark and fun underwater games too!
Max 8 children – £105.00
---
Football Party (5 – 12 yrs)
Exciting indoor football action including up to 90 minutes of games, skills and penalty shoot-outs. If football's your sport then this is the party for you!
Max 20 Children – £100.00
---
Bouncy Castle & Soft Mat Party (3 – 6 yrs)
Enjoy the thrills and spills of the bouncy castle and play area including mats, pop up tunnel and soft play shapes. A big favourite with younger children, as they bounce around to music under the supervision of a member of staff.
Max 16 Children – £85.00
---
Disco & Dance Party (4 – 11 yrs)
As the title suggests, it's disco time!! Our very own children's DJ will be on hand to spin the tunes, lead the dance routines as well as supervise some traditional party games to keep everyone entertained.
Max 24 Children – £90.00
---
Pool Inflatable Party (8 yrs + able to pass the swim test 50m swim 1 min tread water)
1 hour of fun and games, thrills and spills trying to navigate your way across our giant inflatable obstacle course.
Max 24 Children – £105.00
---
Float Fun Party (7+ yrs)
An hours private hire of the main pool including floats, mats and beach balls to add that holiday vibe. Please be aware that we do not allow other toys to be brought into the session.
Max 24 Children – £85.00
---
Toddler Pool Party (0 – 5 yrs)
Includes private hire of our family/teaching pool and includes a range of toys and floats to be enjoyed by all. Includes full lifeguard supervision.
Max 20 Children – £65.00
---
We also host parties at
and
for even more choice!