The D.H. Lawrence Birthplace Museum is the childhood home to the author D.H. Lawrence. The Museum is located in the ex-mining town of Eastwood and surrounded by the lovely landscapes that influenced Lawrence's life and books.  Visit us and find out more – whether you've read any Lawrence books or not!
Admission
The museum is open to the general public on Thursdays, Fridays and Saturdays, from 10am till 4pm.  You don't have to book ahead to visit, it is generally fine to just turn up on these days.  Please just check the website beforehand, to be sure we aren't closed for a group booking: these will always be stated here.
The museum is available on other days for large groups, education tours, special events and hire.  If you would like to bring a large group, arrange an education tour, or a guided tour please give us a call or drop us an email.
Booking & Refreshments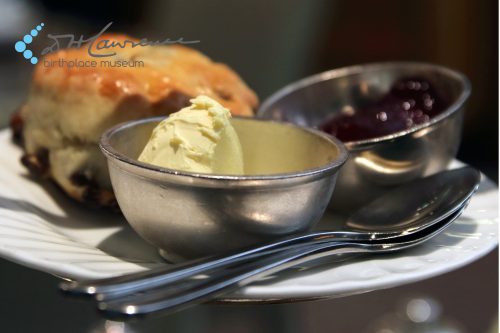 If you prefer to book your admission ahead, that can be done by clicking on the booking link below.
The Birthplace Museum has teamed up with Darlings Café Bar & Tearoom, so that you can book post-admission refreshments at the same time.  You can choose either:
Cream Tea (scone/cake and tea/coffee)
Traditional Afternoon Tea (Selection of mature cheddar, local ham, egg and cress sandwiches. Home made scone with jam and cream. Choice of cake and tea/coffee)
Luxury Afternoon Tea (Glass of Prosecco on arrival, selection of smoked salmon and cream cheese, local ham, egg and cress and tuna mayonnaise sandwiches. Lemon posset with butter shortbread. Homemade scone with jam and cream. Choice of cake and tea/coffee) that will be ready for you once you have looked around the museum.
The Café bar is situated just around the corner from our site and is a perfect way to finish off your visit.
How much does it cost?
Book by clicking on the item in the box below
(NB: You may have to refresh your browser if directed to a login page)
Concession prices are for:
Over 60s
Disabled visitors & 1 carer*
Full time students
Unemployed
Please note proof of concession may be required.
*Please note that due to the restrictions of the Grade II listed building there is no wheelchair access to the upper floors but guided digital tours can be arranged on requist.