Find out more about the different ways can support the Museum:
---
Talk about us…
The D.H. Lawrence Birthplace Museum is considered a hidden gem, so help us raise our profile by telling all your friends and family about your visit with us. You can even tell the world what you thought of your tour on our TripAdvisor page.
---
Volunteering at the D.H. Lawrence Birthplace Museum
Do you have an interest in history or literature? Do you enjoy talking to people? The D.H. Lawrence Birthplace Museum is currently looking for meet and greet volunteers to give a warm welcome to our visitors. There may also be the opportunity to help out with some of our other activities, which include:
Guided tours
Family friendly craft activities and trails
Special events
Group/school visits
Loan boxes
Cleaning and conservation of artefacts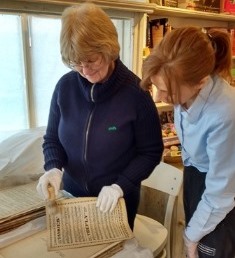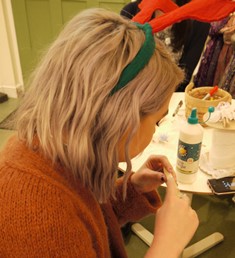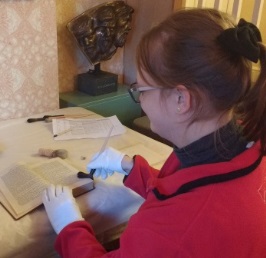 Apply Now
Email dhlawrence@lleisure.co.uk or call us on 0115 9173824 for a volunteer application form. Alternatively you can write to us at the address below.
Address:
D.H. Lawrence Birthplace Museum
8a Victoria Street
Eastwood
Nottinghamshire
NG16 3AW
---
Student Placements and Work Experience
D.H. Lawrence Birthplace Museum offers a limited number of student placement and work experience opportunities throughout the year. For more information, please contact our Museum and Collections Officer, Carolyn Melbourne.
---
Donate
There are many aspects of running a Museum, which your donations can help us with. From pennies to pounds, all donations are welcome, as 54p can buy an insect trap for making sure our collection is kept safe. If you would like to donate to the Museum, please contact us on 0115 917 3824 or drop us an email at dhlawrence@lleisure.co.uk
£10 will replace the smell of 'Grandma's Kitchen' or 'Coal-face' in our multi-sensory resource box for children with special needs.
£15 funds a year's supply of traditional cleaning items for our interactive wash-house sessions.
£30 can buy a conservation grade storage box for historic costumes.
---
Give to our Museum Collections

A lot of the collection on display at the Museum are in our care due to the generosity of members of the public, who have so kindly donated over the years since the Museum first began.
Our current emphasis is on collecting objects, books, photographs, pictures or documents relating to D.H. Lawrence and his family. Recent wonderful additions have been a book owned by Lawrence's sister, a drawing of Lawrence from the 1920s and some early editions of some of his works.
To see the Museum's Collections Policy, please click here.
If you have any questions about this or think you might have an item that we would be interested in, please contact the Museum: dhlawrence@lleisure.co.uk / 0115 9173 3824
---