When she's not putting children through their paces on gymnastics and trampolining sessions at Chilwell Olympia coach Natalie spends her time training on one of the world's toughest fitness programmes; CrossFit.
Here's Natalie's story:
I've been involved in CrossFit for just a year now working out four times a week. CrossFit workouts are based on functional movements, and these include aspects of gymnastics, Olympic weightlifting, running and rowing. Workouts are performed at high intensity, and as a result it drives dramatic gains in fitness. It's also an inclusive training programme and intensity can be scaled therefore it is accessible to anyone committed enough to give it a go.
I do enjoy the challenge of the extreme workouts and with my gymnastics background CrossFit appealed to me. Many of the aspects and movements in CrossFit actually evolve from gymnastics. I wanted to train in a sport that had an element of competition and that would motivate me physically and mentally. CrossFit ticked all these boxes. It's challenging, constantly varied and the camaraderie and competitive element hooks you right in.
I train regularly at CrossFit Derby and it was as part of the CrossFit Derby team that I took part in the WODMarina Tag Team Championships. The event was held at the Velodrome in Derby on the weekend of 3rd and 4th November. This was to be my first competition and I was excited but a little nervous.
Teams travelled from all around the UK to compete and in the competition there were 50 same sex paired teams taking part in the event. The competition included four different workouts to challenge your strength, speed, stamina and agility. This involved lunges carrying a 40kg worm, rowing, burpees, carries with 30kg sand bags, D-balls with snatches and thrusters with dumbbells.
Each workout had a time cap to do as many repetitions (that's AMRAP – as many reps as possible if we're talking technical) and meters as possible. We just kept pushing to squeeze out as many reps and distance as we physically could.
Being my first CrossFit event I didn't go into it with high expectations and it was more for the experience of competing. I was actually happy to finish the workouts with my team partner.  We were both really pleased though with our end result finishing 25 out of 50 teams. I left the event feeling I'd gained lots of experience in the sport and accomplishment for having competed in my first CrossFit competition.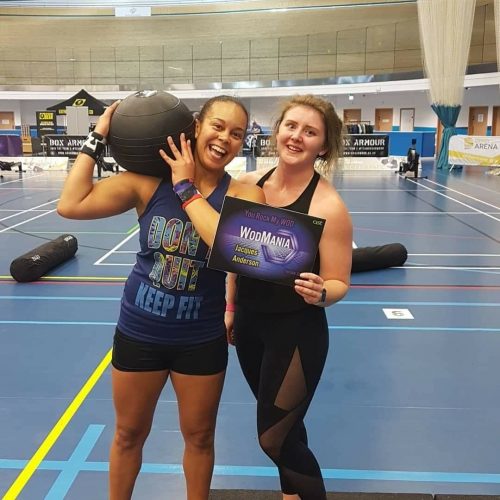 Now I'm back into some serious training for the next event Team Castle Games in Middlesborough on the 8th and 9th December.
Natalie
Interested in gymnastics / trampolining or adult Bouncefit?
Natalie teaches regular gymnastics and trampoling classes at Chilwell Olympia and also the adult BounceFit classes on a Monday evening from 8-9pm. Please visit our website for more information.