Junior Gym 11 – 15years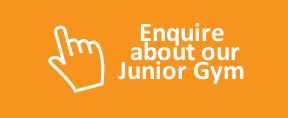 Junior gym is a fantastic opportunity to get involved in health and fitness through exercise and a great way for children to meet new friends and socialise while promoting a fit and healthy lifestyle.  Research indicates that active children are more likely to become an active adult and also suggests that increased activity can help promote a large variety of health benefits associated with exercise.
During each session juniors have the opportunity to use state of the art gym equipment in a fun, exciting and safe environment. All sessions are supervised by a qualified Fitness Advisor and all new juniors will be inducted on how to use the equipment correctly and safely before use.
Aged 14 or 15? Bring a responsible adult over the age of 18 and train in the gym anytime!
Activations
Gym Activations are essential before starting in the gym. The activation will be taken by a fully qualified Fitness Advisor who will ensure that you are familiar with setting up the equipment for both safe and effective use.
Gym Activations can be undertaken during any Junior Gym session. Don't forget to book your session
Exercise Plans
Our fully qualified Fitness Advisors can tailor make a Exercise Plans designed especially for you-to help you achieve your exercise goals. Have the plan updated every six weeks to help keep you on track!
Exercise Plans can be undertaken during any Junior Gym session – Don't forget to book in advance
Junior Gym Opening Times
| | |
| --- | --- |
| Days | Times |
| Monday | 4.00 – 5.00pm |
| Tuesday | 4.00 – 5.00pm |
| Wednesday | 4.00 – 5.00pm |
| Thursday | 4.00 – 5.00pm |
| Friday | 7.00 – 8.00pm |
| Saturday | 11.00 – 12.00pm & 3.00 – 4.00pm |
| Sunday | 11.00 – 12.00pm & 3.00 – 4.00pm |
During school holidays the session times stay the same.