What is wise moves?
Wise Moves is a fun and social class that will help prevent/reduce falls and increase strength and balance. We will incorporate Strength, Balance, Flexibility, Cardio, Tai Chi and Backward Chaining. This is to give you the tools to comfortably complete everyday activities, for example getting down and up from the floor, having the stability to comfortably stand on a bus, reaching for something in a high cupboard or opening that heavy door and improve confidence day to day.
Key areas we focus on are:
Asymmetry
Power in lower limbs
Strength of Ankles
Floor Work
Cardiovascular fitness, strength, balance and flexibility
The Wise Moves classes are a falls prevention scheme which can last for a duration of up to 9 months. The duration of stay on these classes is on a case by case basis which is monitored through ongoing discussions and assessments between the instructor and participant. When both parties are confident that balance has improved, fear of falling has reduced and participant feels able to exercise independently the participant will have completed Wise Moves and be offered a discounted membership at L Leisure to continue this journey with the same instructor.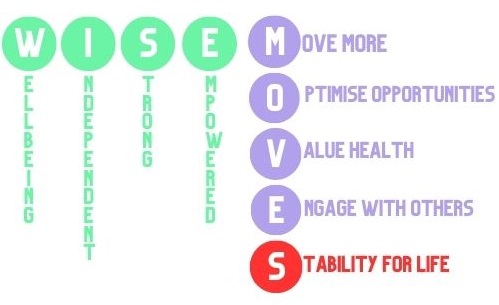 What are the benefits?
The course will help participants to:
Understand the wider benefits of exercise
Be motivated to build the level of exercise gradually
Maintain independence
Undertake appropriate exercise during the programme
Have a reduced fear of falling
Reduce the risk of falls
Have increased confidence
Meet others
Access to appropriate exercise referral scheme following completion of the course
In addition to the classes, participants will also have access to swimming and Aqua classes at Bramcote Leisure Centre and Kimberley Gym & Swim included in their membership.
How do I join?
If you are eligible for the course your GP will contact you with an opportunity to join. If you are successful in securing a place on the course you will be asked to sign up to an LLeisure Wise Moves membership.
The membership is a £15 per month direct debit payable to L Leisure. Included in your membership is the monthly cost of your chosen class, swimming*, aqua fit* and aqua care* classes.
*At Bramcote Leisure Centre and Kimberley Gym & Swim.
If you have been instructed to sign up to a membership by your GP please follow the below steps:
Visit our joining page
 (this will open in a new browser window so refer back to these steps for guidance

Follow through and enter your personal details.

A payment on a pro-rata fee, your next payment will then be

5

th

 of each month following whilst you are on the course.

Your membership is now complete.
Please note that if you are having any difficulties with signing up online, please contact Chloe or Sarah on 0115 917 3572 or email activelifestyles@lleisure.co.uk
Instructor
Sarah Starbuck will be your designated instructor for the classes.
Sarah is an experienced instructor holding a Level 4 Postural Stability Instructor and Level 3 Exercise Referral Instructor qualification. She is also an Active Lifestyles Instructor across L Leisure supporting people with an underlying health condition to be more active in order to better manage or improve the condition. On completion of the Wise Moves course all participants will be offered the opportunity to continue exercising and progress with Sarah through the L Leisure Exercise Referral Scheme.
On occasion you may have a cover instructor lead your class in Sarah's absence. All Wise Moves Instructors will have undertaken accredited PSI training, have a Disclosure and Barring Service (DBS) Check and an appropriate First Aid Certificate.
Class Information
If you are eligible for Wise Moves you will be offered a place on 1 class per week. There are 3 classes available weekly in the community.
Tuesday 12:30-1:30pm Hope, Beeston
Wednesday 10-11am St Helen's Church, Stapleford
Thursday 11am-12pm Plumptre Hall, Eastwood
All classes will offer a 30-minute complimentary tea/coffee session afterwards.