L Leisure Exercise Referral Scheme
Regular physical activity can help you manage your weight, have a positive effect on you mentally, improve your muscle and joint functions, and benefit your heart health too. Not only will it help you manage and control existing conditions, but it will help protect you from developing other health complications as well.
L Leisure's exercise for health scheme in partnership with Nottingham West Primary Care Network has been designed to help you live a healthier and happier lifestyle following the effects of the COVID-19 pandemic. Our exercise for health scheme aims to provide opportunities for people living with underlying mental or physical health conditions to become more active and provide safe and effective access to various activities.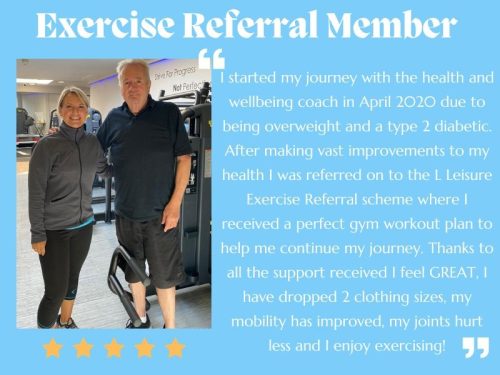 What does the scheme involve?
We provide support, encouragement and guidance from our highly qualified gym team to best advise you on how you can live a healthier lifestyle that you will enjoy and meets the needs of your health conditions. Our gym staff can work with you to create you a plan to follow when you come to our gyms so that you have the structure and knowledge you need to take this journey on independently.
On our exercise for health scheme you have full and unlimited access to Kimberley Gym & Swim, Bramcote Leisure Centre and Chilwell Olympia.
Activities may include*:
gym
swimming
spa
fitness classes
Les Mills Virtual classes
Aqua Fit/Aqua Care
Lifestyle plan
TANITA body composition analysis
*please note our leisure centres differ in activities and some activities may only be available at one site.
How To Get Involved
To get started please speak to your local leisure centre or Health Professional about being referred onto our exercise referral scheme where you will be able to use a range of facilities with expert guidance and support. The health professional will determine whether you are eligible for this scheme.
Alternatively, if you have any questions please email activelifestyles@lleisure.co.uk
We have helped 100s of people to become happier, healthier and fitter … we would love to help you too!
Whilst your waiting to be referred into us why don't you give our home workouts a try?
https://www.lleisure.co.uk/online-workouts/
Eastwood Wellbeing Walks
Walking is simple, free and one of the easiest ways to get more active, lose weight and become healthier. The low impact, steady pace of the exercise is ideal for anyone who is new to exercise, living with a health condition or lacks confidence.
What are the benefits of walking?
To name but a few, the Arthritis Foundation lists some of the benefits of walking:
improve circulation
strengthen bones
boost mood
loose weight
support joints
As highlighted by the NHS, walking in a group is a great way to start walking, make new friends and stay motivated.
Eastwood Wellbeing Walks is a FREE monthly walk starting from The D.H. Lawrence Birthplace Museum on the first Tuesday of every month at 10am followed by a free tea or coffee in the Museum shop afterwards.
There is no need to book, just turn up… children and dogs welcome.
If you require further information please contact The D.H. Lawrence Birthplace Museum on 0115 917 3824.