Kimberley Leisure Centre Relief Leisure Assistant and Swim School Volunteer Mike is a keen open water swimmer.
What's open water swimming all about?
We are all aware of the health benefits of swimming. It is a low-impact, full body workout that builds endurance, muscle strength and cardiovascular fitness. It's one of the few life skills that we learn that could actually save your life or that of others.
But have you considered swapping the pool for the great outdoors? Open Water Swimming (OWS), either as a standalone activity or a required discipline for longer distance triathlon events, is becoming increasingly popular.
Where can I do it?
I have been swimming regularly at open water sites for the past 3 years. Last year I undertook the National Pool Lifeguard Qualification (NPLQ) at Kimberley Leisure Centre, principally so I could start helping out and lifeguard at my favourite venue.
Nottingham Open Water Swimming (NOWS), is based at a beautiful lake at Notts County Sailing Club, near Hoveringham, 10 miles northeast of Nottingham.
Am I a strong enough swimmer to try it?
You don't have to be Rebecca Adlington to swim in open water, although she did join us for a swim earlier in the year. Unsurprisingly she was a bit quicker than anyone else. As long as you are reasonably comfortable swimming in water deeper than your height you will be fine, and even if you are not we can help you overcome any initial anxiety.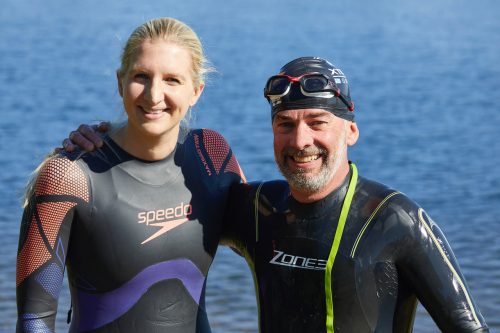 We have a broad demographic of swimmers who regularly attend, from hard core triathletes completing several kilometres per session, to social swimmers who are happy to bob around and chat with friends for a lap or two. It is a very friendly and inclusive environment and new swimmers are always offered a warm welcome and as much help to get started as they need. We have a near 50:50 mix of men and women and children over the age of 12 can swim if accompanied by an adult. Our lake offers a 500m circuit, clearly marked out with buoys. The sailing club have great changing and shower facilities with a canteen that is open for some of the swim sessions.
Is it safe?
Swimming in open water, just as swimming in a pool, is not without its risks, so it is important to consider the safety provision at any venue. At NOWS we use the NOWCA safety system, it's an RFID wristband that allows us to know many swimmers are in the water at any time, and more importantly, account for everyone at the end of the session. It also provides post-swim performance data which is emailed directly to the swimmer. We always have a qualified lifeguard present aboard a powerboat and kayak-based cover to ensure everyone's safety in the water.
Is it cold?
Open water is obviously colder than we are used to in the pool. At the time of writing, July 2019, the water temperature is 21 degrees centigrade. Most people choose to swim in a wetsuit, but plenty of our swimmers are happy to swim without one. Wetsuits vary in cost from under £100 to over £600 but you don't need to spend a fortune to enjoy swimming in open water, there are suits available for hire at the venue. A good wetsuit will fit tightly but allow plenty of flexibility in the shoulders, many will also offer extra buoyancy around the thighs, helping maintain a more efficient position in the water.
Will I enjoy it?
The benefits of open water swimming are numerous. You will burn more calories for an equivalent time spent in the pool as the body needs to work harder to keep warm. You learn new skills, such as sighting, which helps you to swim between the buoys in the straightest and quickest route, there are no lines or tiles to follow in the lake.
Cold water causes the brain to release endorphins which combined with exercising in a beautiful outdoor environment leads to a great feeling of physical and mental wellbeing. Everyone leaves our lake feeling better than when they arrived.
Should I give it a go?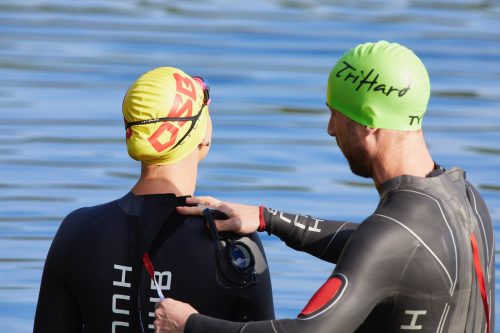 Why not? Many swimmers use the open water to complement their pool-based training, others will train in the pool over winter to maintain their fitness for next year's season. It's a great way to spend an hour or two and on a sunny day you can't beat lying on your back in the lake looking at a bright blue sky instead of swimming pool ceiling tiles.
We have two sessions per week at Hoveringham until the end of September: Friday: 5.30 – 8.00pm and Saturday: 7.30 – 9.30am
It costs £12.00 per year to join NOWCA, you will receive your own RFID band which you bring to each session. Each session costs £6.00. Alternatively, non-NOWCA members can swim as a day guest for £9.00.
Keep in touch with us through our Facebook group or via our website; http://nottinghamows.co.uk and https://nowca.org
Mike Cook
If you like your water a little warmer, here's the timetable for a swimming at Kimberley Leisure Centre