TIME FOR A REEL RELAX
Unwind with family and friends this summer at Broxtowe's popular outdoor cinema events. Spread across five different locations from the 4th – 8th August, Mini Reel and Reel Outdoors are back.
If you like animation or family friendly fun, then a Mini Reel afternoon showing is perfect for you and the kids. Films include Onward, Aladdin, Dolittle, Sonic the Hedgehog and Tom and Jerry – The Movie. Each film starts at 2.30pm and tickets are £5 for a space for up to six people.
Enjoy the Reel Outdoors series of films with your friends. These evenings of film are a perfect way to enjoy the outdoors whilst watching quality cinema. You can reminisce with the classic Dirty Dancing or if you like a good singalong, then Rocketman and Grease are the ones for you. Magic and crime go hand in hand with Now You See Me and if you like something a little darker, then check out Joker.
Each film will begin at 7.30pm and for only £40, you and five other people will be able to relax in your own assigned space, safe in the knowledge that there will be 2 metres between the you and the nearest group. Hand sanitising stations will also be dotted around each site.
Gates will open 1.5 hours before each showing, allowing enough time for social distancing and test and trace procedures.
Bring your own chairs and blankets and remember to wear appropriate clothing for the weather at that time of year. There will be toilets available at each site, as well as food and sweet stalls.
The events are organised by L Leisure Events on behalf of Broxtowe Borough Council.
Parking is available on all sites apart from the Lanes' Recreation Ground in Awsworth.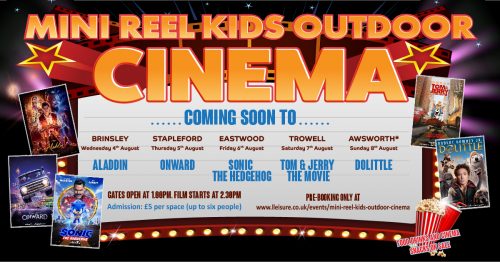 Bookings are live now at:
www.lleisure.co.uk/events/mini-reel-kids-outdoor-cinema
www.lleisure.co.uk/events/reel-outdoor-cinema
Mini Reel 2.30pm (Gates open at 1pm)
£5 per space for up to six people
Reel Outdoors 7.30pm (Gates open at 6pm)
£40 per space for up to six people
Wednesday 4th August Brinsley Recreation Ground, Church Lane, Nottingham, NG16 5AY
Aladdin – 2019 (PG) 2hr 8min
Joker – 2019 (15) 2hr 2m
Thursday 5th August Hickings Lane Recreation Ground, Stapleford, NG9 8PJ
Onward – 2020 (U) 3hr
Grease – 1978 (PG) 1hr 50m
Friday 6th August Jubilee Park, Church Street, Eastwood, NG16 3HR
Sonic the Hedgehog – 2020 (PG) 1hr 39m
Dirty Dancing – 1987 (12A) 1hr 38m
Saturday 7th August Pit Lane Recreation Ground, Pit Lane, Trowell, NG9 3QG
Tom & Jerry The Movie – 2021 (PG) 1hr 41m
Rocketman – 2019 (15) 2hr 1m
Sunday 8th August Lanes Recreation Ground, Awsworth, NG16 2QQ
Dolittle – 2020 (PG) 1hr 41m
Now You See Me – 2013 (12A) 1hr 55m