After what has been such a difficult and unbelievable year for all of us, I decided to do something worthwhile and support a fabulous cause. The Royal British Legion Industries (RBLI) is the leading provider of employability services to the disabled and disadvantaged in the Armed Forces community and partner of choice for individuals and organisations in the provision of care support and employment to those who are disadvantaged by disability, health condition or social welfare need.
I have always been patriotic and proud of those who chose to join the forces, I have family who served in the Guards, Military Police, Land Army and more, in fact some of still serve today. I joined the veteran's lottery in September and decided I wanted to do more.
I was sent a post on social media about Tommy 10k Challenge, read about RBLI and how they support the Veteran service men and women and was eager to take part.
The challenge appealed to me, it was a great way of getting fitter and the focus of raising some money would help me complete the challenge.  As I am not getting any younger, I decided that cycling rather than running would suit my knees and ankles more these days, having completed half and full marathons in my younger and fitter days, biking is definitely the better option!
When LLeisure re-opened its doors in late July this year, I set goals to improve my fitness and return to a healthy lifestyle.  Alternating between Chilwell Olympia and Bramcote Leisure Centre, I felt confident to train in a Covid-secure environment and was very impressed with the cleanliness and systems in place and to give customers confidence to return.
Once I decided to take on the Tommy 10k challenge, I pushed myself to attend the gym at least three times a week, working on my cardio fitness, using the rower, bikes, climber and various HITT sessions, feeling supported and challenged.
On Saturday 31st October I went to outdoor cycling and got used to the feel of cycling a minimum of 10k a day.  In addition to this challenge, I decided to give up beer for the duration, an additional push to improve my health and wellbeing.
The challenge began on Monday 2nd November 2020 and I have cycled to various local memorial sites around the area.
Day 1:     10.89km – Stapleford Memorial, Albert Ball School in Long Eaton and back home to Trowell
Day 2:     11.83km – Covered Beeston and Chilwell
Day 3 :    11.2km – Chetwynd Barracks
Day 4:     11 km – Ilkeston and Trowell
Day 5:     10.1km – Wollaton
Day 6:     14.4km – Long Eaton
Day 7:     19.42km – Victoria Embankment .. 2 minutes silence at 11am sadly no full service.
Day 8:     13.6km – Wollaton, Lenton and back to Trowell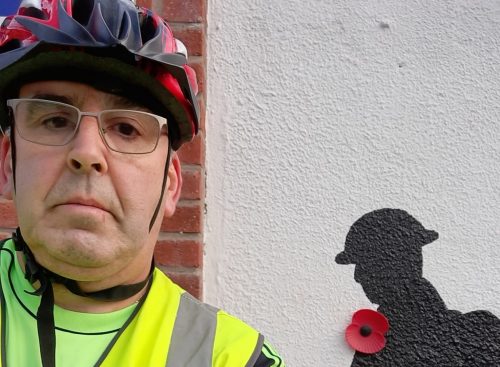 Two more days to go and I have enjoyed every minute of this challenge so far, feeling a lot fitter, lost a few pounds and definitely a healthy challenge, both mentally and physically.
Thank you everyone for your support and all donations, so far we have raised in excess of £1400,  which has made me feel humbled and proud.  Please feel free to follow me on my Facebook page and donations can still be made using the fundraising link.
Keep, safe and well everyone and positive thoughts towards some sort of normality in the very near future.  See you back in the gym in December, thank you LLeisure for making us feel safe and secure and I look forward to using the facilities again soon.
David Stocks LLeisure Member