Thirty years ago
I was a healthy fit teenager that did hours of sport on a daily basis.  I road my bike 30 miles every day to get to school. I could run a half marathon with little effort and a full marathon in a sub 3 hour time. Thirty years ago I was the weight I was supposed to be and could buy clothes labelled S or XS.  Health and fitness came easy to me and it was just a way of life.
That was all thirty years ago and now I can hardly recognise myself.  My bike has been substituted by my car. The thought of exercise is very easily dismissed with the excuse of "I haven't got time" . The letters XL now appear on all my clothes.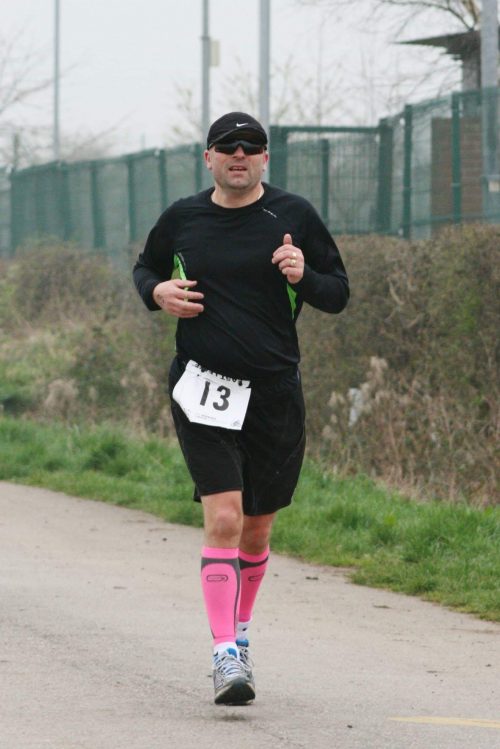 My realisation
I am no longer a healthy and fit individual.  I have allowed my lifestyle to succumb to the fast paced pressurised modern world. This has made me acknowledge that something has got to change dramatically. I am a naturally competitive person and when the word sport is mentioned it becomes a challenge for me.  This brings it's own problems though as my competitive nature makes it difficult for me to participate at a recreational level. I always have to win, be faster or get a personal best.  With this mind set I will always fail as it is highly likely that I won't hit these goals.
My challenge
With this in mind I need to set myself a new challenge. To have a realistic goal that's achievable without comparing my progress to my younger self 30 years ago. So I have taken the plunge and on Sunday 8 September I will be taking part in the Great North Run.
I have no expectations of beating a certain time or running each mile at a certain pace.  In fact I have just one goal which is to start and finish the event without stopping.  So I intend to run the 13.1 Half Marathon from Newcastle-Upon-Tyne to South Shields from beginning to end with no walking and just running.
My training
There are just 16 weeks to get ready and my training started on Tuesday 14 May. This was my first run for a very long time, well I call it a run but it was more like a slow jog.  I set my target of 2 miles; chose my route along the canal which is nice and flat, pressed go on my Fitbit and off I went.
They say the first step to a new fitness regime is the hardest. You have to deal with the psychological battle as well as the physical ability. For the first few minutes I was struggling; "why am I doing this" and "I don't think I am going to be able to do this".
After a while, without realising it, I started to stop battling with my demons and relax.  I began to admire the lovely scenery, the swans with their newly born cygnets and the barge boats going through the locks. Before I knew it, I was half way into my run and enjoying myself.  It was strange how my mind-set changed as my Fitbit indicated I had done a mile and it was time to turn around and retrace my steps.  The doubt had gone and I was telling myself "I am doing this" and "This is really good fun".
My first run
I know this was just the first run but that initial hurdle had been overcome and I feel great about it. I'm aware of what I need to achieve and how I am going to achieve it.  I've written a training plan that will help me progressively increase my distance. I am aware how important this is to avoid injuries.
My next run was on Thursday 16 May.  I chose a more local circular route from my house that went along the old railway line behind the Brinsley Headstocks.  It was a later in the evening about 8.30pm and there was a beautiful red sky setting on the horizon.  This was a much hillier route and my calf's certainly new about it.  I stuck to the two miles as I want to build on consistency.  Despite the hills and my calf's letting me know they went happy I felt surprisingly good.  I had certainly found the run more comfortable than my first run.
On weekends I will be progressively increasing my distance to be ready to face the 13.1 miles on 8 September.  So, this weekend (18/19 May) I'll be stepping it up to 3 miles (5k).  I'll hopefully then continue to do a couple of 3 mile runs in the week and a longer run every weekend.
Join me on my journey
I'll share my progress with you and whilst my key goal for now is to complete the Great North Run without stopping there'll be lots of other health benefits along the way. Just because I used to be able to do things 30 years ago, it's never too late to start again.
Follow me and my journey to running 13.1 miles and be in with a chance of winning a Fitbit. Details will be disclosed before race day.
Grayson, Assistant Manager, Chilwell Olympia