Join the Mermaid phenomenon here at Kimberley Leisure, Nottingham
After a brief conversation about whether we wanted to go on the Fin2Fit course to become qualified mermaids, (of course we said yes!) we made sure we were booked onto a course that was the furthest away from work… we soon learnt our lesson. After five hours, three detours and two toll roads, we finally arrived at our destination (insert voice of the lady Sat Nav)
We became the first two qualified Fin 2 Fit instructors in the East Midlands.
We felt so honoured that we half expected to be contacted by Disney for The Little Mermaid Live Action. We're still holding out for a call…
Once back in Kimberley, we were straight into organising our Mermaid and Shark launch including both Mermaid and Shark birthday parties, and holiday activities.
Our first holiday activity session booked out in no time and we even put on an extra session due to the demand! The feedback that we got from these sessions was fabulous and made all the hard work worthwhile.
Our Mermaid and Shark holiday sessions and birthday parties start off with a swim test, to ensure that all swimmers are competent and safe to take part in the session. Our swim test consists of a 50m swim, and one minute of treading water. We then practise some skills in the water which are needed to be confident Mermaids and Sharks.
After this, we are able to put on the FINFUN mono fins and tails! (after a safety briefing). The Mermaid and Shark transformation is now complete. We then go over the skills learnt and play some games.
Over the Summer Holidays, we ran a 'Mermaid Academy' which was hugely successful and all the children who participated progressed so well over the four day course. We finished with a mermaid photo shoot and graduation which was a lovely end to the week!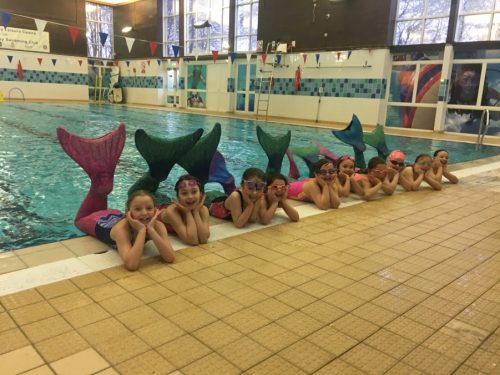 Benefits to Mermaid Swimming for your children
Will improve water confidence
Improve water strength
Help improve swimming technique
Improve flexibility, balance and co-ordination
Will be rewarding
Make new friends
Fulfil their dreams
FUN!
For more information on our Mermaid and Shark activities at Kimberley Leisure Centre please click here  or call us on 0115 917 3366
We look forward to seeing you soon!