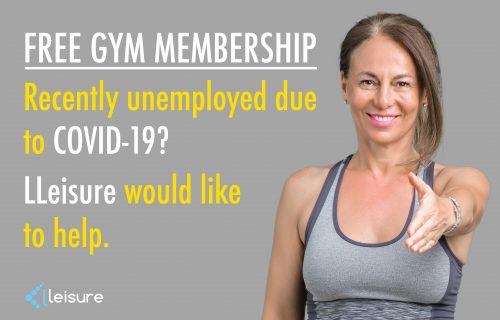 We know how difficult and strange these times are for everyone. Some of you will have suffered more than others, including people who have regrettably lost their jobs due to the COVID-19 pandemic.
Here at LLeisure we want to do everything we can to play a positive part in our community. To that end, we are offering one-month off-peak gym-only memberships (including virtual classes) to anyone who has been made redundant since lockdown began back in March.
There will be 10 places per site (Bramcote, Chilwell, Kimberley) per month and memberships will be allocated on a first-come-first-served basis. To apply, simply complete the form below. Anyone who is unsuccessful is welcome to reapply for the following months. We will ask to see proof of redundancy and residency within Broxtowe prior to membership activation. Each FREE membership will start on the 2nd January 2021 and all successful applicants who fit the criteria will be contacted in the week prior to this.
December applications for January 2021 close on Christmas Eve, 24th December 2020.
Now more than ever it is important to maintain your physical and mental health, so whether it is you, or a friend, we want you to take your next positive step forward with LLeisure. We're here for you.
The information below will be used in accordance with our privacy notice. Please see our website for full details HERE.