The Blue Line Trail
D.H. Lawrence (1885-1930) lived in Eastwood for the first 23 years of his life. But the Birthplace Museum at 8a Victoria Street was just the first of the Lawrence family's four Eastwood homes. Lawrence's socially ambitious mother Lydia was always looking for something bigger and better!
Follow the Blue Line Trail around Eastwood to discover the other Lawrence family homes and see some of the places that influenced his life and work.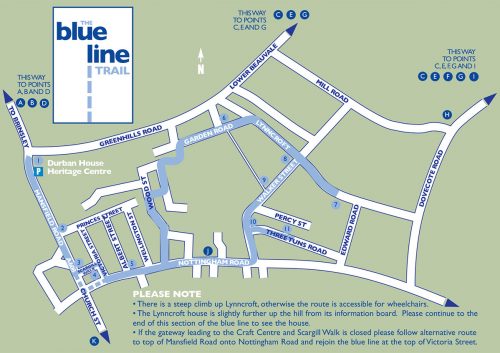 The Blue Line Trail links Eastwood's various Lawrence-related sites:
Ex-Barber Walker Co. coal mining offices (formerly Durban House Heritage Centre)
Princes Street
The Mechanic's Institute
Congregational Chapel & British School
The Breach House
Lynncroft House
The Canyons
View from Walker Street
Walker Street House
Three Tuns Pub
* NB The D.H. Lawrence Birthplace Museum is accessible via timed tour; advanced bookings are strongly recommended.