An update on my half-marathon journey
In my last blog a few weeks ago I wrote about some of the injuries I was nursing. My ankle, although weak has been ok and I feel it has got much stronger.  The calf has also recovered well, the rest has done it the world of good.  My hamstring however, well that's another story!
A test run
For the last couple of weeks I have done everything to try and repair my hamstring.  That's meant lots of ice, massages and visits to a physiotherapist. Things definitely improved and after a few days of no pain I decided it was time to give it a little test.
Last Friday I went for a very gentle 2 mile run along the canal.  I was being very cautious and ran very slowly. As I approached a mile I was starting to relax and was feeling good. I was getting back to my normal stride with no sign of any pain in my hamstring.  I thought everything was going to be ok and after a mile I turned around to head back.  As I went under the last bridge and I could see my car in the distance my confidence suddenly changed as I felt a very small twinge in my hamstring.  I stopped immediately and walked back to the car feeling very disappointed.
All or nothing
For the next few days I continued with the ice and massage therapy and to be honest I didn't feel anything in my hamstring at all.  I hoped that maybe it was just a little twinge on Friday that meant nothing.  I now had less than 2 weeks to go until the big day and it was crunch time.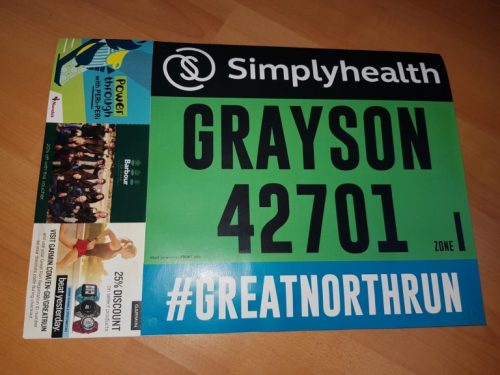 My running pack had arrived in the post. I was behind in my training though due to my injury. The last thing I wanted to do was to go all the way up to Newcastle and  not be able to finish it due to my injury.  It was time for  a proper run and see what it was like.
A proper run
On Tuesday evening, I went down to the canal again with my dog Loopy for moral support.  For the first half a mile everything was going well and I was feeling pretty good.  At about the ¾'s of a mile point I had relaxed and I was giving my usual thumbs up to fellow runners. Just past the barges though and i came to a sudden halt. My hamstring had gone extremely tight and was very painful. I realised that I wasn't going to be running the Great North Run this year.  It appears that my injury has just upgraded from a Grade 1 to a grade 2 
A plan for 2020
Injury is a part of sport and I know I will recover and be back to run another day.  For now I have no choice but to rest and recover.  To say I am gutted is an understatement but I am feeling so proud of myself for getting up and having a go.
Back on the 20th May 2019 I put my heart on my sleeve and wrote my first blog about how I used to be so fit 30 years ago and how I needed to make some changes in my life.  I also wrote "I have no expectations of beating a certain time or running each mile at a certain pace.  In fact I have just one goal which is to start and finish the event without stopping.  So I intend to run the 13.1 Half Marathon from Newcastle-Upon-Tyne to South Shields from beginning to end with no walking and just running"
Going forward
Unfortunately this is now not going to happen this year but in my mind I am just postponing.  I hope to defer my entry into the Great North Run until 2020 and I will also look for  other events I can take part in throughout 2020.  For now, I need to lick my wounds and recover.  Once I have got over the disappointment and I have an update on my fitness and plans for 2020 I will write another blog but in the words of Arnold Schwarzenegger "I'll be back!"
Grayson