Ice ice and more ice
Well the weather got cooler but unfortunately my calf wasn't getting any better. In fact for 2 days after my last run I was struggling just to walk let alone run.  My training plan was going to have to wait as I knew I had to get my calf better.  Out came the frozen peas and for several days I nursed my calf with regular ice and massage sessions.  It was slow progress but it needed to be done and I unfortunately missed a whole week of training.
A week later I was feeling good again and I was eager to get back down the canal. I wasn't 100% sure about my calf; so I put my compression socks on and started a slow jog to test it out.  The first mile was touch and go and there were occasional shooting pains in my calf. As I got into it the pain went away and another ½ a mile later I was feeling fine and picking up the pace.  I was planning on just doing 3 or 4 miles but I was also tempted to go further.
Further Injury
Now hindsight is a wonderful thing as we know; but when I reached the 2 mile marker I had a choice. Turn around and do 4 miles (which would be a good run after my calf injury) or keep going and turn around at 4 miles to get back on track for an 8 mile run.  Of course, I took the second option and kept going.  To be honest I was feeling really good when I turned around at the 4 mile marker.  I was enjoying the light breeze along my usual scenic route and it was at about the 5 mile marker that it all went wrong.
Distaster Strikes
One minute I was running and the next I heard a "pop" and my hand was holding my left hamstring. I knew instantly that I had pulled my hamstring and my run was over.  I then had 2 big concerns.  The first being that my half marathon is only 4 weeks away and had I just ruined my chances of even competing.  The second was that I still had 3 miles to get back to my car.  I started my long 3 mile walk back to the car feeling very sorry for myself.  I did try to jog on a few occasions but my hamstring was having none of it.  On a plus note, I was able to pick a load of blackberries that I normally run past and am unable to stop for.
As soon as I got home the frozen peas came out again and my only hope was to look after the injury the best I could and pray that the damage wasn't too bad. I checked on the NHS website and from reading this I decided I have a Grade 1 injury which means there is a chance I could recover over the next week.
Things come in Threes
They say things come in threes and as far as my injuries are concerned I didn't want or need a third injury. Alas that was not to be and strike 3 came on Tuesday when I randomly stepped on some uneven ground when walking my dog Loopy and I heard another "Crunch".  This time it was my left ankle and for the 3rd time the frozen peas were called upon.
I can't believe the last few weeks. My left leg must be cursed.  So, all on my left leg I have had injuries to my calf, my hamstring and my ankle.  I am praying that my luck will change and am putting all my efforts this week into trying to recover.  My calf is feeling much better and I think my ankle will be ok for running.  My hamstring however is still not great and the next week is going to be crucial to my recovery.  I am still confident that I will be ok for the big day despite my setbacks. Two weeks ago I ran 7 miles and remember saying to myself that I could probably run 13 miles now at a very slow pace and it wouldn't be easy.
An Inspiration
Whilst I was sat on my sofa with my leg elevated on ice I discovered a programme on Netflix called Iron Cowboy. Now if ever you want to be inspired I recommend checking this guy out here.  I have always been full of admiration for anybody that completes an ironman triathlon.  But this guy takes it to a whole new level that to me is just simply mind blowing but at the same time helps me to believe that anything is possible if you work hard and dedicate yourself to the goal you have set.
Fitbit Analysis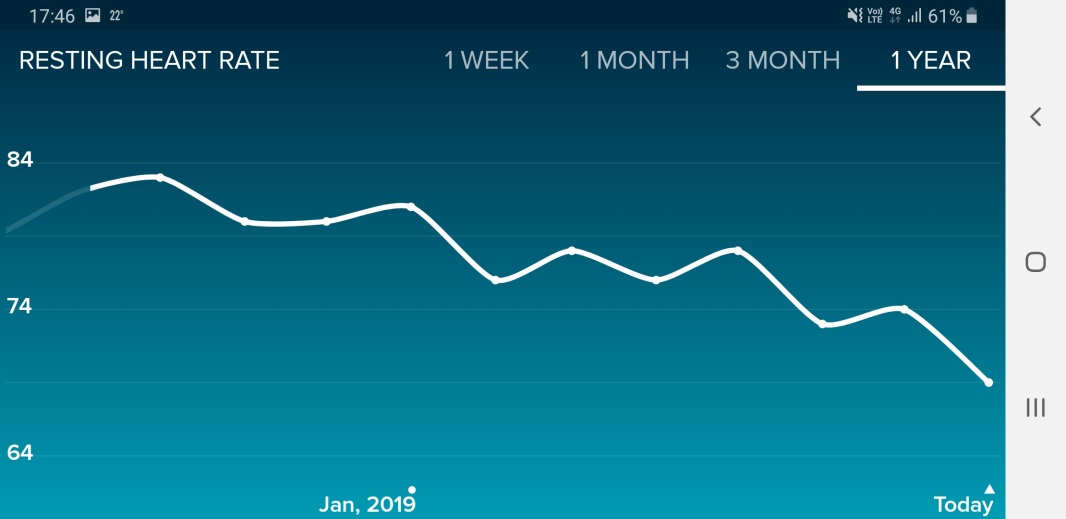 I also spent a bit of time analysing some of the stats on my Fitbit. I know I said at the start of my journey that I was hoping I may experience some other health benefits along the way.  One indicator I have notices is that my resting heart rate has clearly improved.  They say a good resting heart rate is between 60 and 80 beats per minute.  Prior to me writing this blog my resting heart rate was hovering around the 80bpm mark.  I realised today that this has gradually come down and my resting heart rate for the last few days has been 67bpm.  I've got to take a positive out of this right?
Week 10 & 11 not Completed
Well weeks 9 & 10 have tested me with a whole new set of challenges. Injury is part of sport and so is the recovery from injury so for now I am concentrating on recovery and hopefully the running can start again soon.  Please keep your fingers crossed for me that this is just a minor setback.
So, if you want to join me on my little journey I will share my progress with you. Whilst my only goal for now is to complete the Great North Run Half Marathon without stopping; I am sure I will benefit from many other health benefits along the way.Just because I used to be able to do things 30 years ago, it's never too late to start again.
Follow me and my journey to running 13.1 miles and be in with a chance of winning a Fitbit. Details will be disclosed before race day.