Running in heat
Well I thought it was hot last week but this week just reached a whole new level. I take my hat off to anybody that managed to get out half marathon training in this heat.  Despite the heat I did manage to get two runs in and under the circumstances missing just one run was more than acceptable.  I also decided it was best to leave my hot dog Loopy at home; she was finding it far too hot for running and enjoying lying in the sun with her hat on too much lol. In case you're interested here are a few useful tips about running with your dog in the heat.
When to run?
I knew running mid-day was a definite no no with temperatures well above the 30's.  As i am not a particularly good morning person  I decided to leave my run until late in the evening.  So at 9.15 pm I set off down the canal for a 3 mile run.  It was cooler at this time so I thought it would be the sensible thing to do.  What I didn't take into account was the millions of insect bites I was going to get running along the canal in the evening.  Definitely not one of my best ideas!  By the time I got back to my car my arms and legs were covered in bites.  A mistake I'm not going to make again. I can't afford for anything that's within my control to get in the way of my half-marathon challenge.
Running long
After such a good long run last week I was feeling great about my long run this week; even with the hot gleaming sun.  This time as well l took precautions; covering my arms and legs with insect repellent.  Those little critters were not going to get me this time.  The plan was a steady 3.5 miles out and 3.5 miles back again.  To my surprise it all went exactly according to plan.  I started off at a steady pace, continued at a steady pace, I turned around and came back at a steady pace. I completed the 7 miles at the same continuing steady pace.  All in all. It was a fairly steady run. My Fitbit also confirmed that each mile was run at a very similar pace which is encouraging for my half-marathon.
Week 9 completed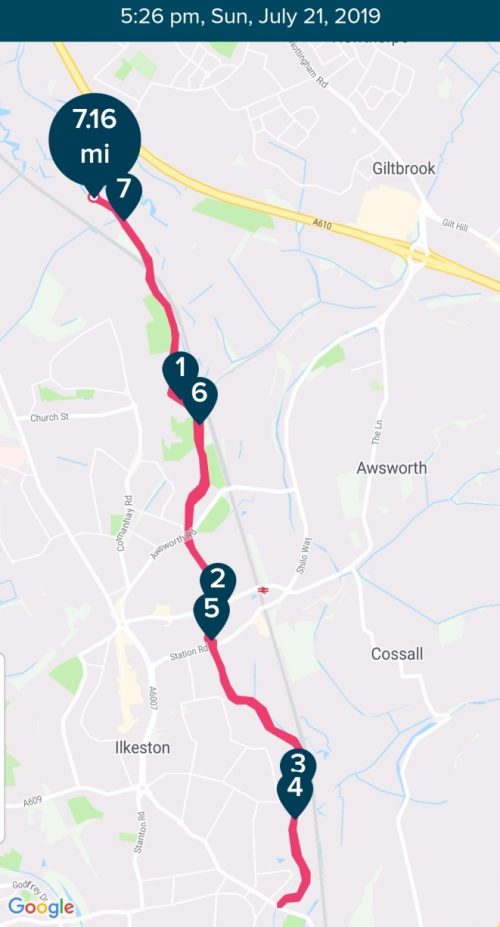 Well I have completed 9 weeks.  I have run my longest distance to date of 7 miles which means it's just another 6 miles to add on to complete my half-marathon.  The only downside is that my left calf has been very soar for the last few days. This has been a little disappointing seen as I have been keeping off the hills.  Hopefully my calf will feel better soon and the weather will show some mercy a get a bit cooler for me.
So, if you want to join me on my little journey I will share my progress with you and whilst my only goal for now is to complete the Great North Run Half Marathon without stopping I am sure I will benefit from many other health benefits along the way and that just because I used to be able to do things 30 years ago, it's never too late to start again.
Follow me and my journey to running 13.1 miles and be in with a chance of winning a Fitbit.  Details will be disclosed before race day.