Feeling guilty
So last week most definitely did not go according to plan and I was feeling guilty. This week I was determined to get on track and  though I was still on holiday I forced myself to put on the running shoes.  I had been so impressed with my self-motivation and consistency in training and I knew another week like last week could really set me back.
Holiday run
On the 3 July I went for a run from the cottage we were staying at in Wareham.  I started to follow the Wareham Wall which is an Old Saxon wall surrounding the town.
Unfortunately the uneven surface was playing havoc on my ankles so I moved away from the wall and picked up a trail along the river. I followed the river for just over a mile and then retraced my steps and headed back to the cottage. The run itself was fine but the heat was still way too hot for me despite having my hydration pack I still struggled.  How athletes train in hotter countries I will never know.
Bournemouth run
For those of you that have been to Bournemouth beach you will appreciate the attraction. I have always wanted to go for a run along the promenade.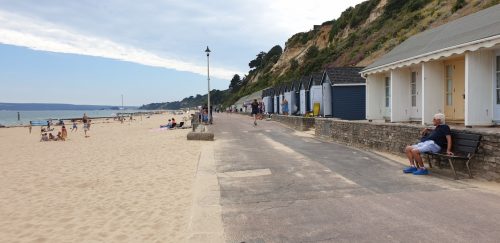 This desire came true on 5 July.  The sun was gleaming on a blue sky and off we went to the beach with my running kit in tow.  I decided to go for my run straightaway at 10am before it got too hot. Though it was already in the mid to high 20 degrees Celsius.
It may have been just another routine 3 mile run but it was one of the hardest runs I've done to date.
There were three things that made the run difficult:
Firstly the heat was unbearable.
Secondly the promenade was extremely busy with people including a local school doing a sponsored walk.
Third; and not something I was expecting and it was perfume.  For some reason there seemed to be an unknown competition going on for who could wear the strongest smelling perfume/aftershave.  This smell and the heat combined made it extremely difficult to breath.  I found myself coughing and choking on the fumes on several occasions.  This made me drink more water from my hydration pack to clear my throat and about 2 miles into the run I had ran out of water.
Despite these challenges, I completed my 3 mile run along Bournemouth Beach Promenade.
My best run to date
I was conscious that that although I had managed my two 3 mile runs this week it had now been two weeks since I had done a longer run. It was nice to be back on familiar territory and I headed off back down to the canal. I had intended on doing a straight 3 mile out and 3 mile back for my run.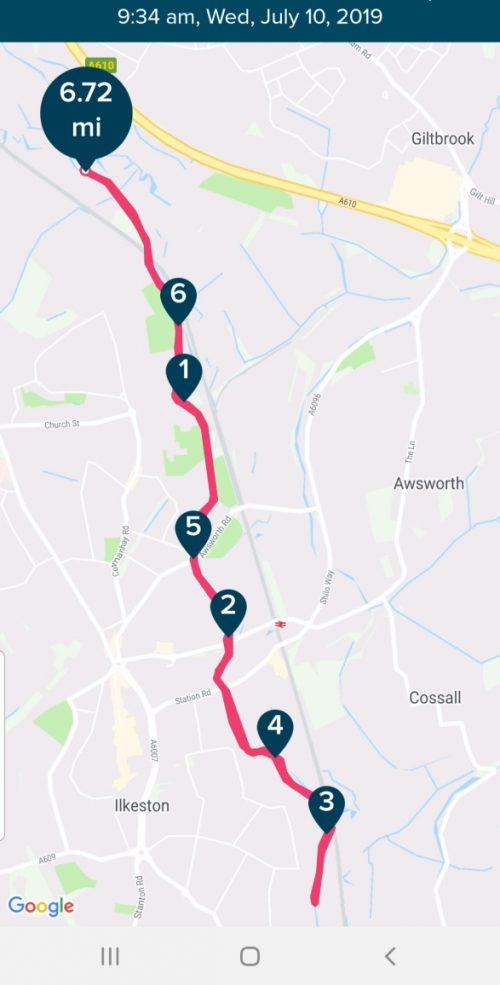 The weather was much cooler and the very light drizzle of rain made it perfect running conditions. After the first 2 miles I was feeling surprisingly good and an idea started to develop in my mind.  I told myself that if I was still going well at 3 miles, instead of turning around I would carry on a little further.
At 3 miles I was still going strong and it was probably the best I have felt to date at this marker.  Now it may not seem like a lot but I decided to carry on for a further quarter of a mile before turning around.
I would then be back on track with my training plan by doing 6.5 miles instead of the planned 6 miles. The strange thing was that I seemed to be getting more confident and quicker each mile.  I even had a couple of cheers from some walkers and high fives from two ladies as I passed the 5 mile marker.
Without a shadow of a doubt this was my most successful run to date.  Maybe the holiday break did me more good than I realised? Perhaps I shouldn't have been punishing myself about not training?  According to my faithful Fitbit, I completed a 6.72 mile run.  I achieved my fastest average pace to date and I got gradually quicker for each mile on the run.
Week 8 completed
Well I have completed 8 weeks. This was a great week for a number of reasons.  I ran just over 6.5miles which means I have hit my half way distance.  It's also my half way point of the training plan as I have 8 weeks to go until the big day of The Great North Run.  So far I have to be happy with my progress and If my next 8 weeks are as successful then I am confident that my challenge of completing a half-marathon without stopping will be accomplished.
So, if you want to join me on my little journey I will share my progress with you and whilst my only goal for now is to complete the Great North Run Half Marathon without stopping I am sure I will benefit from many other health benefits along the way and that just because I used to be able to do things 30 years ago, it's never too late to start again.
Follow me and my journey to running 13.1 miles and be in with a chance of winning a Fitbit. Details will be disclosed before race day.