I finished last weeks blog off with the sentence "Hopefully the weather will be nice to me although the forecast heatwave may bring a whole new set of problems." I must have been psychic or  because the whole week of training just wasn't meant to be.
What happened
Everyday I planned a run it just didn't seem to happen. There were two main reasons for this however. Firstly, I was on holiday and the temptation of relaxing on the beach certainly got the better of me. The second reason being that heatwave I mentioned. Every time I thought about running the sun was beaming down and the heat made running a much bigger challenge that I didn't feel I was prepared for.
Whilst it is ok to run in heat as this article explains  I certainly did not feel I was prepared for it or had the right equipment.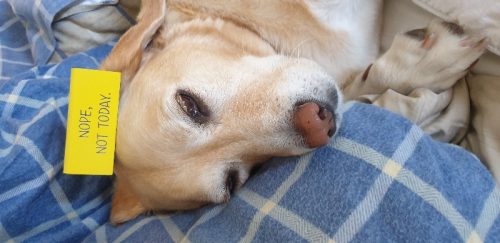 Even my dog Loopy who is normally up for a run had that look on her face that said "Nope, not today".
A poor week
So, I am sorry but week 7 of my training has been a very poor week indeed. On a plus note, I have been doing some research on hydration. I have also purchased a hydration pack which is basically a rucksack that carries water. There's another week of holiday to go but I am now prepared for a more positive week 8.  Feeling positive that I have now got the kit to keep my body hydrated during these hotter days.
Join me
So, if you want to join me on my little journey I will share my progress with you and whilst my only goal for now is to complete the Great North Run Half Marathon without stopping I am sure I will benefit from many other health benefits along the way and that just because I used to be able to do things 30 years ago, it's never too late to start again.
Follow me and my journey to running 13.1 miles and be in with a chance of winning a Fitbit. Details will be disclosed before race day.
Grayson, Assistant Manager, Chilwell Olympia