Stretching
Week 4 has definitely provided me with some ups and downs.  As mentioned last week I was struggling with my calves so I've done some research. I started doing a variety of exercises to help strengthen my calves up.  I found the this article in Runners World really helpful.
I'm doing these stretches both before and after each run alongside certain exercises every day.  I've found the eccentric calf raises have really helped in just a few days.  With a combination of stretches and digging out my faithful compression socks my calves are now ready to take on the world.
Runner etiquette
On Wednesday 5 June I took to the canal again with my dog Loopy and did my usual 3 mile run.  It was a very pleasant run and there were quite a few other people with a similar idea.  There is clearly an unwritten rule when you pass another runner going in the opposite direction. Just as you are about to pass them there is a friendly acknowledgment that says; "well done you" or "good work, keep going".
This friendly etiquette amongst runners can really help push you along. It can be a simple thumbs up, nod of the head and on occasions I even got a high five!  There is never any judgment amongst fellow runners and it's a very warming feeling to have their support.
The Monsoon
On Friday 7 June I encountered my most difficult run to date thanks to our good old British weather.  Let's be honest, it chucked it down all day.  Friday was a day off work and I had planned on going out at about 10 am but the rain made me think better of it.  I decided to relax for the afternoon and go for my run later.  I took the opportunity to watch another of my sporting heroes playing tennis in the French Open at Roland Garros. Unfortunately Roger Federer couldn't get the better of Nadal on this occasion but I will be rooting for you at Wimbledon Roger.
Anyway, at about 6 pm there was a brief break in the clouds so I took my opportunity and headed for my favourite hill.  Unfortunately, the break in the clouds really was brief and about 5 minutes into the run the heavens opened up.  It chucked it down relentlessly for the rest of the whole run.  It was pretty miserable out there, especially when certain cars (yes you in the white BMW whoever you are) go through huge puddles that send tidal waves over you just as you're struggling to get up that hill.  At one point I was literally laughing to myself because I couldn't believe how bad the rain was. I can only imagine how silly I looked in my shorts and t shirt plodding along in a monsoon!
A few selfies
On the plus, my calves were much better and even though it was an incredibly hard run, I kept plodding along and didn't stop.  Once I finished I was both relieved and happy at the same time.  I was soaked through but it was another challenging run completed.  Before I went in and dried off I decided to take Loopy for a quick walk into the fields at the Brinsley Headstocks. The local cows were taking an interest in my stretching routine . That's the cows in the photo!
A longer run
Sunday 9 June was a turning point for me.  The sun was out and I was due to step up the distance to 4.5 miles.  I was back at the canal and I ran out for 2.25 miles, turned around and retraced my steps.  This was the best run I have done to date.  I felt relaxed, my calves felt good and from beginning to the end it just felt right. Maybe it was because Friday was such a struggle but at the end of this run I felt good and could certainly have gone further if I wanted to.  My average pace per mile was also the best I had achieved to date.  Four weeks ago I was exhausted after running two miles.  I am now running over twice the distance and not feeling anywhere near so tired at the end.  That's progress and I hope it continues.
Week 4 completed
Well I have completed 4 weeks. One whole month of training and so far I am pleased that everything is on track.  I am now running one third of my goal distance of running a half marathon and I still have 12 weeks to go.  I've done a graph of my runs over the last 4 weeks which show how my distances have improved.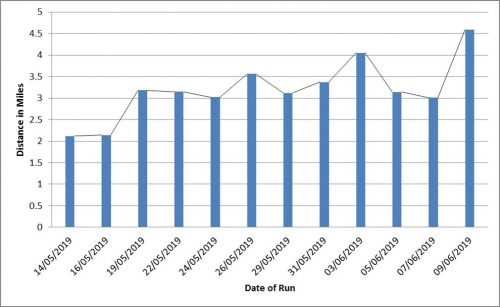 So, if you want to join me on my little journey I will share my progress with you and whilst my only goal for now is to complete the Great North Run Half Marathon without stopping I am sure I will benefit from many other health benefits along the way and that just because I used to be able to do things 30 years ago, it's never too late to start again.
Follow me and my journey to running 13.1 miles and be in with a chance of winning a Fitbit.  Details will be disclosed before race day.