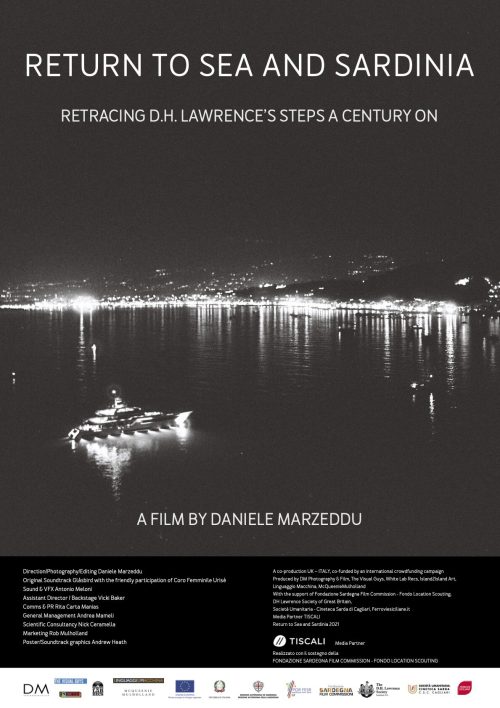 In 1921 D.H. Lawrence's travelled from Sicily to Sardinia, the journey inspired his travel book Sea and Sardinia.  Lawrence's approach to travel writing was unusual for the time; often focusing on the people he met to give a deep portrayal of human character.  While his response to new landscapes resulted in works which capture the spirit of place, unlike any other writer.
To celebrate the 100th anniversary of the book's publication, the Fondazione Sardegna Film Commission supported photographer-director Daniele Marzeddu to create the film Return to Sea and Sardinia.
Return to Sea and Sardinia retraces Lawrence's journey, talking to local inhabitants of the island, to find impressions of the writer's visit still lingering.  The filmography combines contemporary film with archival footage, set against a musical backdrop by Glasbird, of the British label WhiteLabRecs.  The result is a hauntingly beautiful film, which captures the feel of Lawrence's historic journey.
After the film screening there will be the opportunity to meet with Director Daniele Marzeddu, and to visit the D.H. Lawrence Birthplace Museum, where there will be an exhibition of photography from the film, a free glass of wine and the chance to see the historic rooms of Lawrence's childhood home.
The film screening takes place at Eastwood Town Council, 120 Nottingham Rd, Eastwood, Nottingham NG16 3AJ, at 2pm on Saturday 23rd April 2022 and the film is 85 minutes.
The exhibition launch will take place directly after from 3.45pm till 6pm, and is just a short walk, at the D.H. Lawrence Birthplace Museum, 8a Victoria Street, Eastwood, Nottingham NG16 3AW.