Every year at LLeisure we hold a trampoline and gymnastics event to celebrate the two sports.  With a mix of displays, performances and competitions it also gives us an opportunity to showcase the talent in our gymnastic and trampoline classes.  This year the event took place on 13th and 14th July at Chilwell Olympia.
The event
It was a busy event; with over 160 gymnasts participating across all abilities and age groups. Competitors from beginners to advanced competed along with the Little Leapers (under 5's group) and the elite national level gymnasts.
The event was based on performing skills and routines in a competition environment. Gymnasts were awarded medals for participation; with competitors awarded a medal based on scores achieved rather having an overall winner.
Organiser Natalie Jacques, the Trampoline and Gymnastics Development Officer at Chilwell Olympia understands all about the importance of performing from an early age. Natalie competed internationally for Great Britain Trampoline Gymnastics team with a competition career spanning over 15 years.
Here's Natalie's top 5 benefits of children competing from a young age:
Confidence
Learning how to perform a skill or routine in front of people is a really valuable lesson for children to learn. It's a skill to take into adulthood when there may be a need to give a speech or presentation in front of people. Performing also helps boost self-esteem and brings a sense of pride in their achievements.
Health and wellness
Gymnastics makes exercising fun. It shows children that exercise can be enjoyable and something they want to do. Children that participate in our gymnastics classes learn the positive values of exercise and it also teaches an awareness and care for the body . Prioritising exercise as a child helps forms a lifelong habit of exercising.
Mental toughness
Learning a new skill is a real challenge for a child and this can help develop mental strength. Learning to deal with disappointment, being gracious and controlling emotions like nerves can also help develop their character.
Teamwork
Learning to be a part of a team at a young age, recognising the skills of others, supporting their teammates and encouraging each other is all part of being a team member. Events like ours are great for developing children's understanding of what it means to be part of a team.
Goal Setting
In gymnastics, not everything can be achieved overnight; and that's a good thing! Teaching children to strive for goals that they have work hard towards is an incredible life skill. This teaches them about the importance of perseverance and dedication. Goal setting is an important skill for everyone to have in life. Gymnastics is a perfect place to teach this skill early in life and in a fun way.
Find out more about joining our Trampoline and Gymnastics classes.
The key to successful event
Volunteer involvement was vital to running, delivery and managing the event weekend. The roles and responsibilities taken on by the volunteers helped make the event a great success.
We have an experienced team of volunteers that helped from setting up, judging, coaching and marshalling the event all coming together to celebrate the sport trampoline and gymnastics with making it an enjoyable weekend for all.
"Just a quick note to say thank you to all the staff and judges at the trampoline event, particularly one of the volunteers James who encouraged my son to perform for the second time after making a mistake. Thank you". Amy Bodycombe.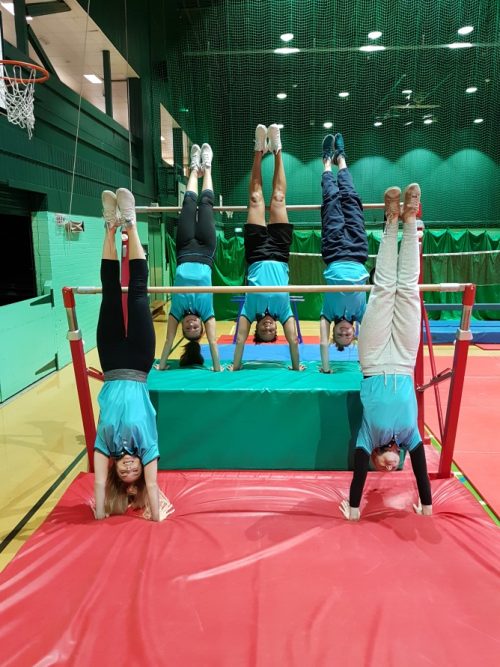 I would like to thank everyone that was involved in the helping for the event we really appreciate your help and support.  If you're interested in helping as a volunteer please find further information on our website.
Natalie